Time at the beach when the water's too cold for swimming can easily turn into a nightmare for unprepared parents when the kids start chanting the mantra of this tech-dependent generation.
"I'm SO bored!!!"
So what's a parent to do after you've visited the beach arcade five times, caught a crab then boiled it for supper, watched "Boss Baby" at the movies, and played yet another round of miniature golf? You get online in a desperate attempt to find something creative to entertain your restless crew and stumble upon an organization that educates and informs while you interact with their colorful crew of furry residents.
Just don't tell the kids they'll learn something!
SC-CARES, the South Carolina Coastal Animal Rescue and Educational Sanctuary, is a wildlife rescue and rehab center located in the country just outside Georgetown, SC. The non-profit was started by Cindy and Skip Hedrick.
According to their website, they provide a compassionate, no-kill/no-breed sanctuary for abused, neglected and unwanted exotic and farm animals and non-releasable wildlife. The Hedricks and their volunteers provide a safe, caring place so the animals can live out their days in a healthy, natural environment. The organization also rescues, rehabilitates and releases injured wildlife.
The animals' stories vary.
There are tortoises like Freddy, Sebastian and Speedy whose former owners were unaware of their size and longevity. (Tortoises can live up to 100 years.) And then there's Jimmy, a robust pig who'd spent the two years before he was rescued living in a small laundry room eating only dog food, suckers and gum. The sanctuary also houses timber wolves including one that was rescued from a puppy mill. (Read more of the stories here.)
Tours are by reservation only. There is no fee but they do ask for a donation. You can also view their Wish List of items here.
Our visit to SC-Cares was a nice break from the beach and a good lesson in compassion for our boys. So next time you're at a nearby beach – Myrtle Beach, Surfside, Garden City, Pawley's Island or Litchfield – take half a day and head to SC-Cares. Just don't forget to call first!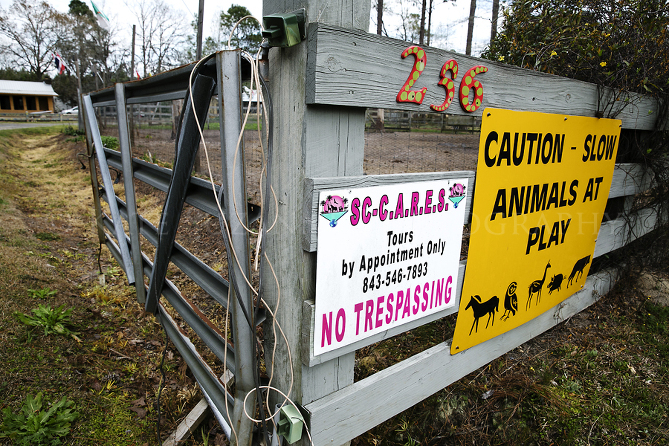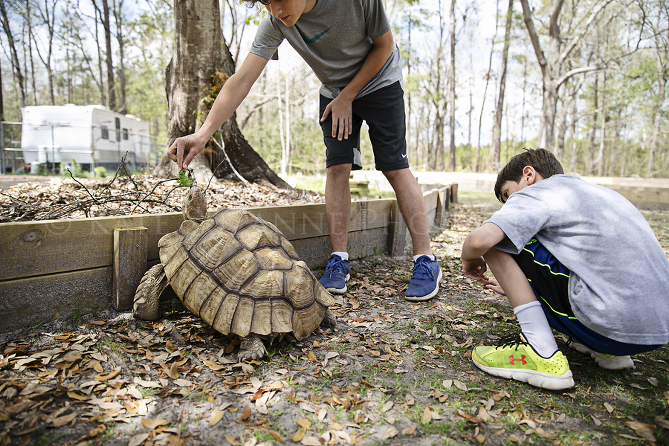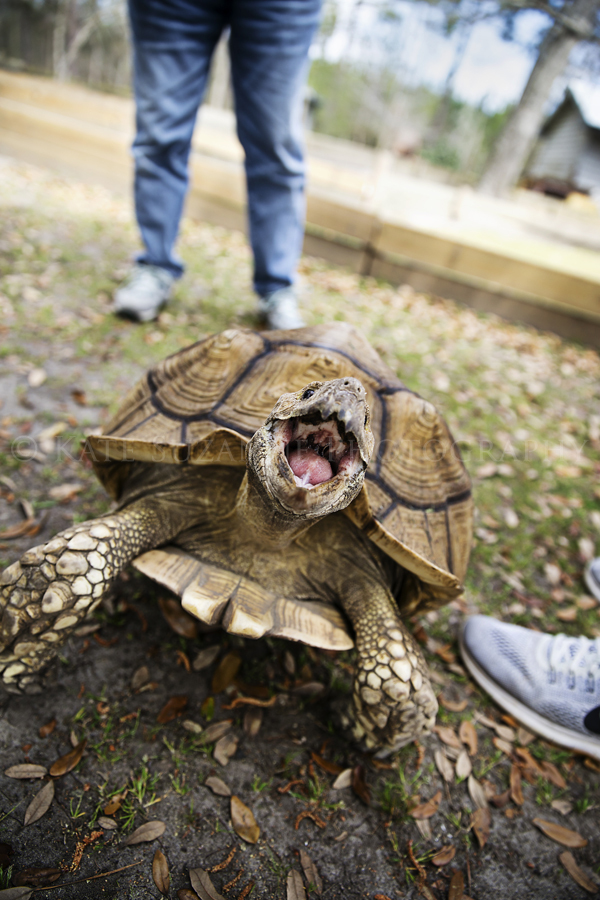 Captain Jack, a Timber Wolf


Kumar, the Llama, says, "just a few steps closer and I can spit!"


Cairo, the goat, on his roof


Meeting Sweetie, the White-tailed Deer, who was found with her back leg tangled in a tree root and rescued. The leg had to be amputated.


Snuggles, a Cockatoo, gets friendly with the hubby


Meeting Harry, the Blue-fronted Amazon


Squirt the Sugar Glider




And where the animals rest in peace…