Happy New Year!!!
There was a time – many, MANY, moons ago – when ringing in the new year involved gathering other single friends, heading downtown in your chosen city, and squeezing into an already packed bar to sip on lukewarm beer and dance in what little space was left while waiting for the ball to drop. What were we thinking?!
Fast forward a few years (or 20) and you're once again faced with what to do on that annual evening that requires some sort of fanfare for welcoming in the next 365 days. Only this time, you have kids to entertain. And some of those kids are in the "too cool for school" teenage realm. So what's a mom to do? You invite a group of fun friends with kids the same ages as yours, play stupid games with cookies and toilet paper, and be thankful those days of NYE bar-hopping are no longer necessary. It was our official "Second Annual NYE Family Olympics!"
As expected, the planning period before the party produced a few eye rolls from the teen who used words like "lame" to describe the upcoming festivities. But when we were well into our third game of the evening – shooting rubber bands at rolls of toilet paper in an attempt to be the first one to break a strip – the teen was laughing and cheering the others on. And he thinks I'm not cool. (insert eye roll here)
It was a messy kind of fun – I pulled 12 oreos from the seat cushions this morning – but it was worth it. All the games were a success except "Try Not to Laugh." My corny jokes were a bust and elicited zero laughs until an adorable, freckle-faced, third grader took the mic and stole the show.
The games ended by 10:30 which meant the kids could run and play so the adults could be adults with our adult drinks and adult conversations. "Adulting." We might not need bar-hopping to celebrate NYE these days, but a red solo cup of libations after all that party planning will never be turned away. (insert wink)
So here we go with a few photos from the night. And if you'd like to have your own family game night, here's a link with some easy "Minute to Win It" games and one more here.  Have fun!
M&M Suck and Pass game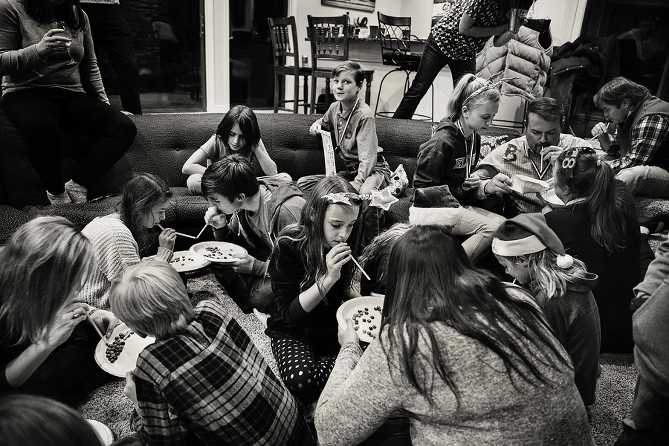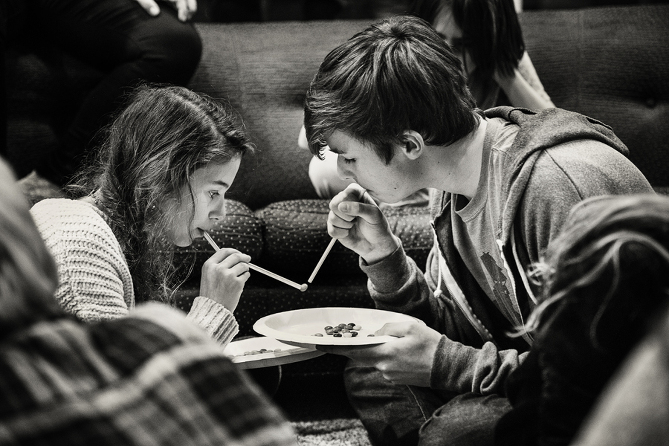 "Tear It Up" rubber band shooting game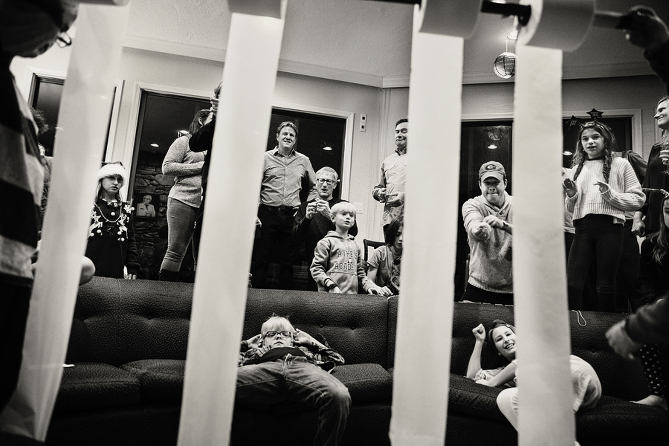 Oreo stack game on the moms




Post-It Note Challenge






Dads bubblegum and whipped cream race


And the last of the party (note the legs in the bottom from a sleeping child)